Music: On/Off
Stroll Down Memory Lane
(For a shortcut visit the thumbnail page .. click here)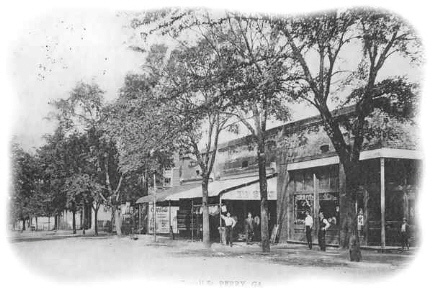 Carroll Street
Circa 1900
Looking west from the corner of US Hwy 41 & US Hwy 341.
The courthouse is to the left out of view.
Carroll Street
Circa 1930

Looking east from the corner of U.S. Hwy 41 & U.S. Hwy 341. The courthouse is at your back to the right. This view is from the location above looking down the street in the opposite direction.
Carroll Street
Circa 1945

Same view as above. The photo was taken standing in front of the old Crocket's 5&10. At this time the US Post Office was located next to Crocket's.
The history of Perry and Houston County is wonderfully presented by Bobbe Hickson Nelson in her book, "A Land So Dedicated". It is a must read for anyone with roots in Houston County and an interest in its history. Many of the pictures on these pages can be found in the book which has served also as a source for much of the information accompanying the graphics and photos here.
[ The Stroll, Scene 2 ] [ The Stroll, Scene 3 ] [ The Stroll, Scene 4 ] [ The Stroll, Scene 5 ]
---
[ Peaches ] [ The New & The Old ] [ 1st Baptist 1954 ] [ The Stroll, Scene 1 ] [ Perry High School ]

---
This site is hosted by


Pages on this site are created and maintained by
Terrelle M. Walker
(terre)
All materials on these pages not specifically stated to be in the public domain or acknowledged as the work of others (including but not limited to images, graphics, wallpaper, MIDI files, and original commentary)
are the property of The Briar Patch and its creator.
All rights reserved. May not be reproduced without permission.
©1998-2008