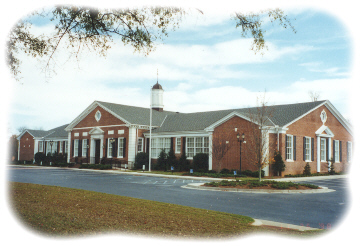 Perry High School
The building pictured above was built in 1925. My father and mother both attended classes there as did I. This traditional period-design school is beautifully preserved through the efforts of Perry's citizens and one of its past principals and current Mayor of Perry, Jim Worrall. Currently used as the administrative headquarters of the Houston County School Board, it is also the home of the Sam Nunn Library and a turn of the century school room, an educational museum.
Originally the building housed grades one through 11 (there was no 12th grade); however, by the time I began school, the population had grown with the war (not 'The Warh') which resulted in the establishment of an military base in the county and the lower grades had moved into a new building constructed next door. It was indeed a great day in a school child's life when they reached fifth grade and moved over to the building in which so many of their mothers and fathers had attended classes. The floors were wooden and polished to a high luster. The long wide hallways were lined with what were called lockers. But that was indeed a misnomer since none of the small open cubicles with a hook for a coat and a shelf for books had even a door much less a lock. Old blackboards still remained in most of the rooms (blackboards later became green). My favorite room was the science room. It was right out of a movie. With its high tables, valves, beakers, and spouts, it gave one a keen desire to enter that mystical sanctum and try out chemistry, biology and physics (not my best subjects). The school's auditorium with wooden seats and balcony was a wonderful place. It was there in 1957 that I watched Yankee (yipes) Don Larson pitch against the Brooklyn Dodgers, the only perfect game ever in a World Series . The auditorium was a gathering place for the whole community; there were Christmas pageants, band concerts and the Miss Perry Beauty Pageant. I remember Perry's beauties, among them Patsy Todd and Lynn Smith.
But more to be remembered and cherished are those dedicated men and women who taught there. A short story of my personal experiences within the halls of this old school house and of my appreciation for one particular teacher who took the extra time to take one frolicking teenager in hand is found below:
The Ol' Battle Ax
(Use browser's back button to return here)
Classes
of
PHS
Alma Mater
Far above the Ochlahatchee,
'bove the waters clear.
Stands forever Alma Mater,
Perry, loved and dear.

Refrain: Lift your voices, send them upward,
Loud your praises sing.
Hail to thee our Alma Mater,
Wide your honors ring.

Stands forever, crowned in knowledge,
Lift thy purpose high.
And thy fame, O Alma Mater,
May it never die.

Refrain
Words written by 'Miss' Aurelia Cooper Evans
Photo of Perry High School courtesy of Bill Harrison, Class of '55.
---
[ Peaches ] [ The New & The Old ] [ 1st Baptist 1954 ] [ The Stroll, Scene 1 ] [ Perry High School ]

---
This site is hosted by


Pages on this site are created and maintained by
Terrelle M. Walker
(terre)
All materials on these pages not specifically stated to be in the public domain or acknowledged as the work of others (including but not limited to images, graphics, wallpaper, MIDI files, and original commentary)
are the property of The Briar Patch and its creator.
All rights reserved. May not be reproduced without permission.
©1998-2008