Perry High School
Class of 1955
The 1950's in Perry for me were right out of a movie. It was Main Street USA! The students of PHS still walked after school to the corner drugstore downtown for cherry cokes and chatter. Sock hops and basketball made for Friday night entertainment, Saturdays for movies at the Muse and Sundays for church and MYF or BTU.
In 1955 I was only 8 years old but still many of the names of that graduating class at PHS are familiar. With- out TV idols, younger kids in those days "looked-up" the high 'schoolers' and teachers often called attention to those one might wish to emulate in studies and deportment. Sam Nunn's name was mentioned often by his former teachers. As early as my fourth grade year, I remember hearing, "Now that Sam Nunn is a fine boy! Takes his studies seriously". Sam would eventually become a distinguished United States Senator from Georgia. Greatness shows up early I reckon.
Class of '55
45th Reunion - May of 2000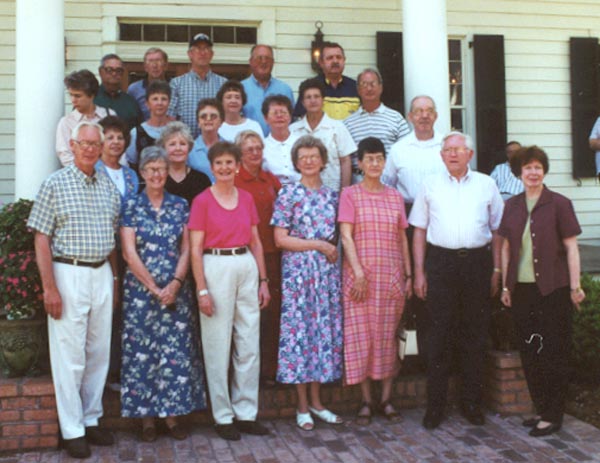 Left to Right:
1st Row: Bill Harrison, Theresa Williams Bondurant, Jackie Newberry Beeland, Betty Layman Seago, Barbara Davis Sharp, Gordon Scarborough, Mary Kathryn Duggan Thornton.
2nd Row: Dorothy Walton Lee, Dovie Stewart Norton, Sandra Giles Sessoms, Frank Nix.
3rd Row: Sandra Thames Thompson and Shirley Langston Hester.
4th Row: Janice Harper Brown, Faye Tharpe Lacey, Evelyn Fowler Tucker, Julia Parker Watts, John Watts.
5th Row: Joseph Goodroe, Milton Culpepper, Harvey Clarke, Jim Malone and Paul Morrow.
I think one of the best things about the '50s was the music! Songs from that period are still among my all- time favorites.....Unchained Melody, Love Is A Many Splendid Thing, Only You....ahhhhhh!
---
[ PHS 1949 ] [ PHS 1955 ] [ PHS 1960 ] [ PHS 1965 ] [ The Gap ]

---
This site is hosted by


Pages on this site are created and maintained by
Terrelle M. Walker
(terre)
All materials on these pages not specifically stated to be in the public domain or acknowledged as the work of others (including but not limited to images, graphics, wallpaper, MIDI files, and original commentary)
are the property of The Briar Patch and its creator.
All rights reserved. May not be reproduced without permission.
©1998-2008