Music: On/Off
The Perry Court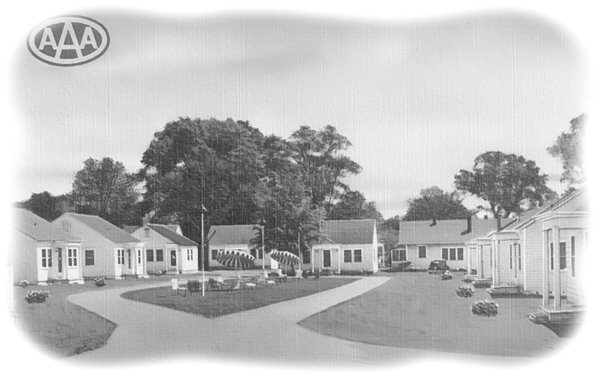 The graphic above is from a circa 1950 postcard which reads:

"All Modern Conveniences. Recommended by Duncan Hines.
1 block south of U.S. 41, on Ga. 7 and U.S. 341, Perry, Georgia."

To the left is a photo of the motor court's office made from an old cypress tree.
Memories
Larry Brown is a 1958 graduate of Perry High School and has shared some of his memories. With his permission, his reminiscence of the Perry Court is presented below.
"I remember the Perry Court, with the Maxwell out front. Mr. Tolleson of course was in the lumber business, and each of the cottages was finished on the inside with a different wood. If I remember there was Pine, Poplar, Birch, Cyprus, Oak, Walnut, and others I can't think of. The old tree trunk was not native to the site, but brought in by Mr. Tolleson as a curiosity. I remember a postcard rack in the tree trunk. Two of the long time employees were Johnnie Lee Parker, nick named Sotoe, as in Sore Toe, and his brother, whose name escapes me at the moment. Johnnie Lee was an honorable man, and knew the ins and out of Perry Court intimately, actually keeping everything together. Johnnie Lee lived in the Old Field Section of Perry, and was a man I was proud to call friend."
[ The Stroll, Scene 2 ] [ The Stroll, Scene 3 ] [ The Stroll, Scene 4 ] [ The Stroll, Scene 5 ]
---
---
This site is hosted by


Pages on this site are created and maintained by
Terrelle M. Walker
(terre)
All materials on these pages not specifically stated to be in the public domain or acknowledged as the work of others (including but not limited to images, graphics, wallpaper, MIDI files, and original commentary)
are the property of The Briar Patch and its creator.
All rights reserved. May not be reproduced without permission.
©1998-2008