A Summer Tradition
As I drove into downtown Perry last week, I passed the Methodist Church and wondered at what might be happening there. The grounds were covered with a varied assortment of tents and canopies made with sheeting and various timber forms. Cousin Marianne later informed me that what I saw was the setting for the summer's Vacation Bible School. The next morning, camera in hand I went to record a VBS very unlike to those of my childhood.
| | |
| --- | --- |
| | |
| Built around the theme of a Biblical village, various age groups of "chillun" dressed in costume are divided into representative tribes. Each tribe had its own banner which was carried with the tribe as they performed various activities in the village. | Costumes include a coin pouch tied around the waist which contained gold "coins of the realm". Of course, circulating among the tribes was the tax collector. This part was aptly played by Perry's mayor, Jim Worrall (regretfully he was not there for a picture). |
I forgot to ask if the day starts off now as it did in my day. We would all line up in front of the church and "march-in" to the tune of Onward Christian Soldiers. Two boys would lead the processional with a girl marching in between them. One boy carried the flag of the USA and the other the Christian flag; the young lady carried the Bible. It was a real thrill to arrive at proper age and be selected to be a flag or Bible bearer.
| | |
| --- | --- |
| | |
| Making fish nets was just one of the many activities which teach about life in Bibical days. | Brick making as in the old days. However these are made using the famous red clay of Georgia. |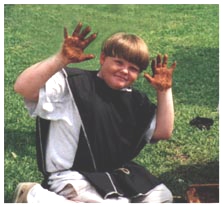 A master brick maker !
Things have certainly changed since the summer days I spent in Vacation Bible School. In those days it was just a treat to be able to use the dull blunt-nose scissors and that sticky white paste that came in jars. (Some kids ate it!) I recall most projects called for at least one sheet of colored construction paper. There was never enough red because that was the one everyone wanted. After all, how else would you make red bricks!
---
[ Perry on Parade ] [ The Soup Group ] [ Vacation Bible School ]

---
This site is hosted by


Pages on this site are created and maintained by
Terrelle M. Walker
(terre)
All materials on these pages not specifically stated to be in the public domain or acknowledged as the work of others (including but not limited to images, graphics, wallpaper, MIDI files, and original commentary)
are the property of The Briar Patch and its creator.
All rights reserved. May not be reproduced without permission.
©1998-2008