Each April, Perry celebrates the arrival of spring with its Dogwood Festival. And each spring nature cooperates with a display of color that lifts the spirits and drives the rigors of winter away. One part of the celebration is the parade.

While visiting family, I happened to stumble onto the parade route and was immediately transported back to such parades of my childhood. Families scattered along the route, some with legs outstretched, others in folding lawn chairs and a few lucky wee-ones sitting happily in the little red wagons which transported them there.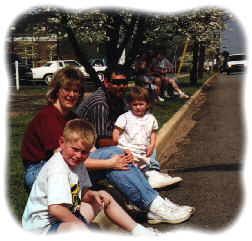 The Green Family
Charles & Leanne with children
Will & Savannah

What memories floated back as the scenes unfolded?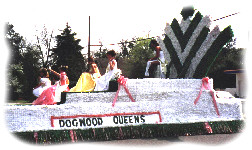 Floats fashioned of crepe paper and tempra paints drawn by tractors....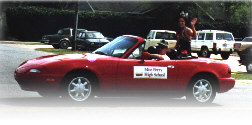 beauty queens sitting on the retracted top of residents' convertibles, slowly making their way down Main St., stopping for proud parents to snap pictures..........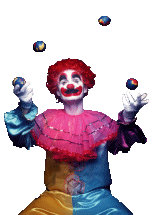 the Shriners' clowns in their little mini cars, darting back and forth. Could it have been so long ago that my Uncle Cecil donned grease paint and took on a persona so unlike that of a serious local businessman? Uncle Cecil is a clown to the angels now in heaven's parade.

Perry's parade is as all parades should be - a celebration by hometown folk for hometown folk.

Ahhhh, there's nothing like a parade !